There are many ways YOU can join us in our MISSION …
Consider a religious vocation as a Cluny Missionary
Become a Cluny Associate
Support our mission through prayer
Support our mission through a financial gift
Support our mission by leaving a lasting gift in your Will
For more information contact the Provincialate Office:
Email: clunyusa@hotmail.com
Phone: 401-846-4826
Address: 7 Restmere Terrace, Middletown, RI 02842
"Share in our mission of Hope and Compassion!"
Cluny Vocations
Are you trying to discover which path to take?
Discern your call with us …
As Sisters of St. Joseph of Cluny we are called to a life of availability, simplicity, prayer and community. If you feel a sense of dedication to God and a desire to make a difference in the world, we invite you to consider a religious vocation. Come journey with us to see if you are being called to bring hope and compassion to our world as a Cluny Sister.
Becoming a Sister of St. Joseph of Cluny involves various stages of formation during which both the candidate and the congregation discern whether or not the candidate can best live out her call as a Sister of St. Joseph of Cluny. For more information on these stages click here! Stages of Formation
Email us at: vocations@clunyUSandCanada.org
Cluny Associates
Cluny Associates are Christian women and men who strive to live a deeply spiritual life in the spirit of Blessed Anne Marie. They seek God's Will in their lives as they mutually support one another in:
Faith formation
Prayer formation
Study of the life, spirit and spirituality of Blessed Anne Marie and the community she founded
Getting to know the mission and actual missionary activity of the congregation
Cluny Sisters everywhere seek to formalize the life-giving relationship between the members of the congregation and the lay persons with whom they live and minister by gathering to support one another in seeking God's Will and carrying it out.
Associate Directors:
Hamilton, Ontario – English Group: Terry Wallace
Hamilton, Ontario – Portuguese Group: Sister Maria Rocha
Rhode Island Group: Sister Eugenia Brady
California and West Virginia: Sister Mary Patrice Watson
Contact clunyusa@hotmail.com for more information
Associates commit themselves to:
On-going Christian formation
Pursuing their spiritual growth and development
Carrying the Congregation and its missionary activity in prayer and in whatever way possible, sharing their time, talent and treasure to extend the mission of Jesus.
Members of the Congregation commit to:
Offering the witness of a life of faith and service
The support of their prayer and, according to their resources, whatever spiritual and emotional support they can in times of need.
Financial Obligations
The goal of lay associate membership is to share the charism and spirituality Blessed Anne Marie bequeathed to her congregation. Membership and commitment as a Cluny Associate involves no financial obligation either on the part of the Associate or of the Congregation.
What does membership offer the Associate?
By helping associates respond with greater awareness to their baptismal call, Cluny Associate membership leads more deeply into the daily search for God's Will. Through an increasing familiarity with the Scriptures and a greater fidelity to a regular life of contemplative prayer, associates become more attentive to God's presence in their lives.
Levels of Commitment:
Level 1: Formation Period – Interested persons come to meetings and grow spiritually by seeking to understand the Scriptures, especially the Gospels, through the prism of the spirituality Blessed Anne Marie bequeathed to her congregation. A person may choose to remain at this level. Newcomers participate at Level 1 for approximately a year. If they feel called after a period of discernment, they request to make the commitment that brings them to Level 2. At no time is there any obligation to do this.
Level 2: Associates opt to make a formal commitment to following Christ according to the spirituality of Blessed Anne Marie because they see this commitment as a support in living this way of life. The candidate makes a commitment in the presence of Cluny Sisters and Associates for one year to live the gospel through the spirituality of Blessed Anne Marie. The committed member develops a 'ministry' wherever he or she is that flows out of the Cluny charism.
Level 3: The Associate requests to formally participate in a Cluny Mission. This requires a more total commitment that can involve leaving one's home and family and perhaps even country for a given period of time. At this level, commitment involves a longer discernment, both individually and with the Leadership of the Province.
Make a Donation
Please consider ma
king a donation today…
You can bring hope and compassion to our anguished world by sharing in the mission of the Cluny Sisters. Let us share our blessings with those less fortunate.
Donations can be mailed to: Cluny Sisters, PO Box 66, Newport, RI 02840
Canada donations can be mailed to: PO Box 30060, Hamilton RPO Upper James, ON  L9B 0E4
or you can donate online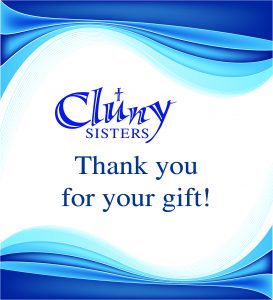 Remember Us in Your Will
One way you can make a last gift to our world is to remember us in your will.
2,400 Cluny Sisters continue to bring hope and compassion in 56 countries throughout the world.
Our legal name is
SISTERS OF ST. JOSEPH OF CLUNY,
PROVINCE OF U.S.A. AND CANADA, INC.
For more information email: clunyusa@hotmail.com or call 401-846-4826