As Sisters of St. Joseph of Cluny we recognize God in all of creation and celebrate and nurture our relationship with God in many different ways. We invite you to join us in touching our world through the grace and power of prayer.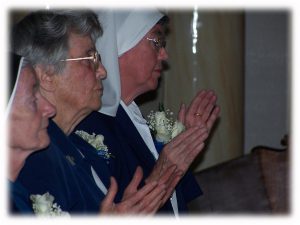 Cluny Sisters are grounded in prayer through ….
Participation in the Eucharist
Contemplation / Meditation
Community Prayer
Marian Devotion
Spiritual Reading
Nature and Music
"From day to day Jesus Christ takes ever greater possession of us,
prays in us and continues His life in us"
Rule of Life
Cluny Prayers
As members of one Cluny family, we are daily united in prayer to our Mother Foundress, Blessed Anne Marie Javouhey. Like her, we ask God to fill us with his love and to help us to do his Holy Will at all times and in all places. Join us in praying to this great missionary for guidance in seeking the Will of God in your life!
Give Us Your Passion for the Will of God
O Blessed Anne Marie Javouhey, whose heart beat only for God and souls, teach us to love as you loved, to pray as you prayed, to suffer and to pardon, to give ourselves as you did. Obtain for us a heart like yours, loving intensely God's Holy Will, believing in His love in everything; a heart strong and kind, ardent and pure, loyal and faithful, humble and confiding; a heart ready for every sacrifice, a heart like to the hearts of Jesus, Mary and Joseph. Amen
My Food Is to Do the Will of God
O Blessed Anne Marie Javouhey, who, following the example of Our Lord Jesus Christ, found the nourishment of your soul in the Holy Will of God and the exercise of your zeal in works for the salvation of souls, obtain for us your vivid faith, enabling us to recognize, love and accomplish all that God wills, your heroic confidence and your perfect abandonment to Divine Providence, as well as your intense love of God and of souls. Amen
Faith … Trust … Humility … Openness to the Holy Spirit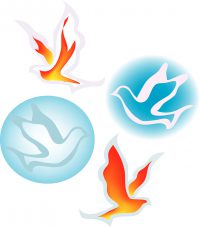 O glorious and Blessed Anne Marie solidly established in the love and fear of God, obtain for us that same clear sighted faith in the Providence of God that was your own and perfect reliance on the sanctity of God's Holy Will. Obtain for us the grace to trample on self-pity and with patience and long-suffering to walk and wait with Jesus and Mary on the way of the Cross. Obtain for us light in our minds and determination in our wills, with mercy and compassion in our hearts towards all, especially the ignorant, the poor and the erring. Obtain for us complete docility to the teachings of faith and continual responsiveness to the Holy Spirit of God, through Christ, our Lord. Amen
The Path of Love
Blessed Anne Marie, you always sought light and strength from the heart of Christ. Teach us to live in constant communion with him, to accomplish the will of the Father without reserve. Guide us in the path of love, which passes through simplicity, detachment and availability. Obtain for us from God the grace to reveal to all the presence and tenderness of God, for the greater glory of the Father, Son and Holy Spirit. Amen.
Seeking God, Finding God, Following God
Lord our God, you enabled Blessed Anne Marie to consecrate herself to the carrying out of your Holy Will in all things and to be ever attentive to your calls as manifested through the poorest of her brothers and sisters. Grant that we, in the Church of our day, may zealously continue the work you confided to her. Through her intercession hear the prayers we address to You. In your goodness grant us the favor of her canonization for your glory and to promote your reign of love, justice and peace. Amen!
Patience and Love for the Glory of God
O powerful and eternal God, who adorned Blessed Anne Marie, your Virgin, with apostolic virtues, and who by her raised up a new family in your Church, grant to us, in your mercy, that by imitating her patience and her charity, we may merit to attain to heavenly glory. We ask this through Christ our Lord, Amen.